Vale do Pati trek is located within the Chapada Diamantina National Park, in the State of Bahia, Brazil. Have a look at the Vale do Pati map and get informed about this destination!
Its immense walls are part of the scenery formed by Serra do Sincorá, the best-known part of Chapada Diamantina, where Morro do Camelo, Morro do Pai Inácio, Morrão, Cachoeira da Fumaça, among others are also located. The closest cities to Vale do Pati are Guiné, Vale do Capão (Palmeiras district), and Andaraí. The area is located at the central point where these municipalities meet and, depending on the route, it is possible to start the trekking in one city and leave in another.
Where is Vale do Pati trek?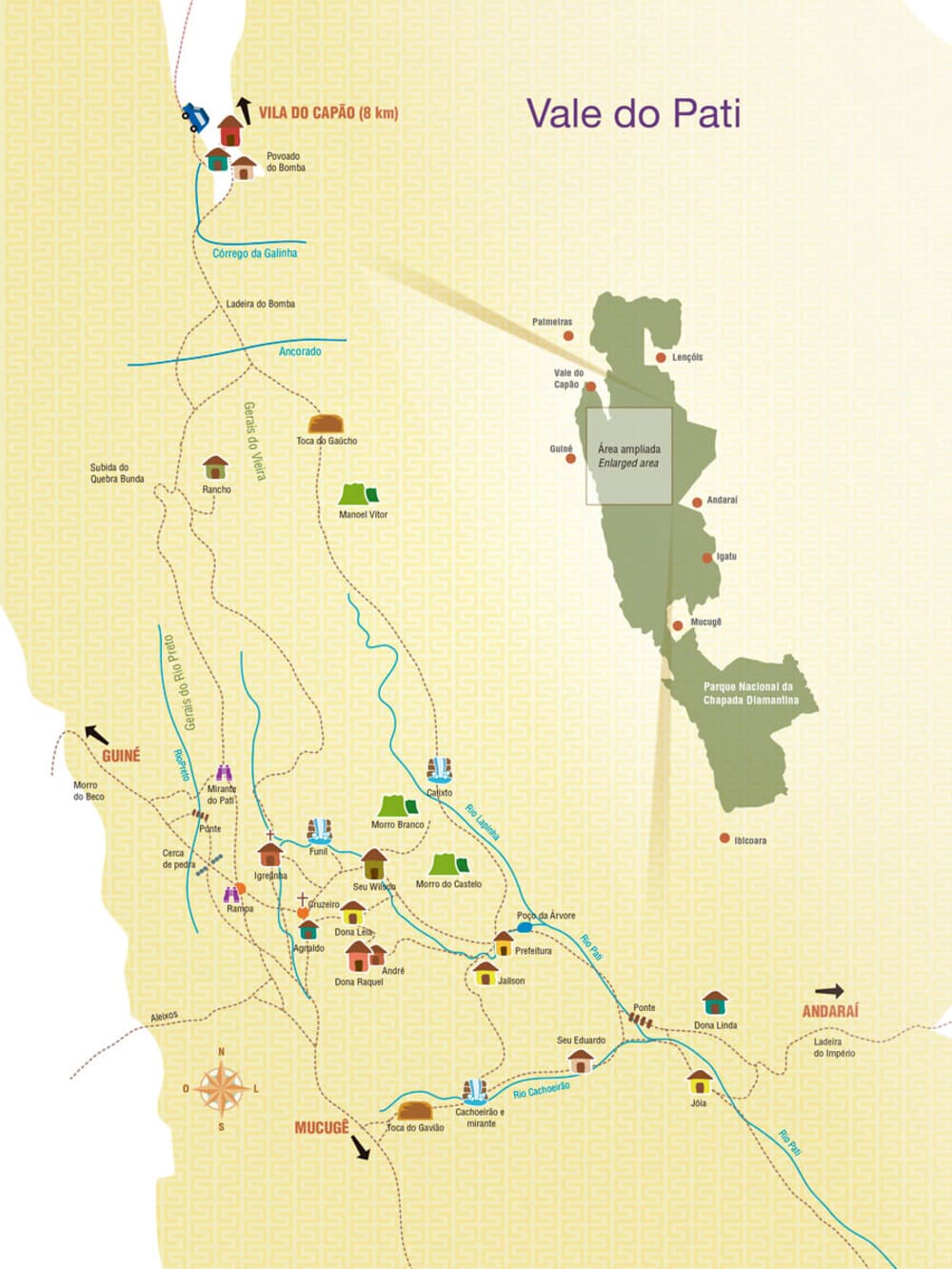 To get to Vale do Pati, there are several gateways. Access is via Beco do Guiné (Guiné city), Bomba (Vale do Capão), and Ladeira do Império/Empire Hill (located in Andaraí and special for five-day itineraries). If you're unsure about how long to spend in Vale do Pati, rest assured that the trail can be completed in 3 days, 4 days, 5 days, or even more, depending on your itinerary and how many days you have available. The easiest route is to leave and arrive through Guiné, compared to others that are further away. Get more information about how to get to Vale do Pati. 
With altitudes between 600 and 1400 meters above sea level, this valley is surrounded by plateaus, such as the Gerais do Vieira and Rio Preto, and mountains such as Morro do Castelo, which has a cave at its top, and rivers that cross and meet within the valley forming the amazing waterfalls. Discover the best treks in Vale do Pati with helpful information and tips.
Live an adventure, connect with an English-speaking local guide on PlanetaEXO, and make traveling more sustainable one adventure at a time! 🙂
Frequently asked questions about Vale do Pati