Want to do the trail and don't know how to get to Vale do Pati trek? See how to get by car, bus, or plane to the National Park entrances. The most practical way is from Salvador, the capital of Bahia. From there, it is possible to go by plane, bus, or car.
How to get to Vale do Pati?
There are several gateways to Vale do Pati, you can get to the entrance of the transport trail and then follow the path by walking. Access is via Beco do Guiné (Guiné city), Bomba (Vale do Capão), and Ladeira do Império/Empire Hill (located in Andaraí and special for five-day itineraries). The most traditional is to arrive and leave through Guiné, a more peaceful route if compared with the others. To these places, the route is by car and then tourists follow on foot through Vale do Pati.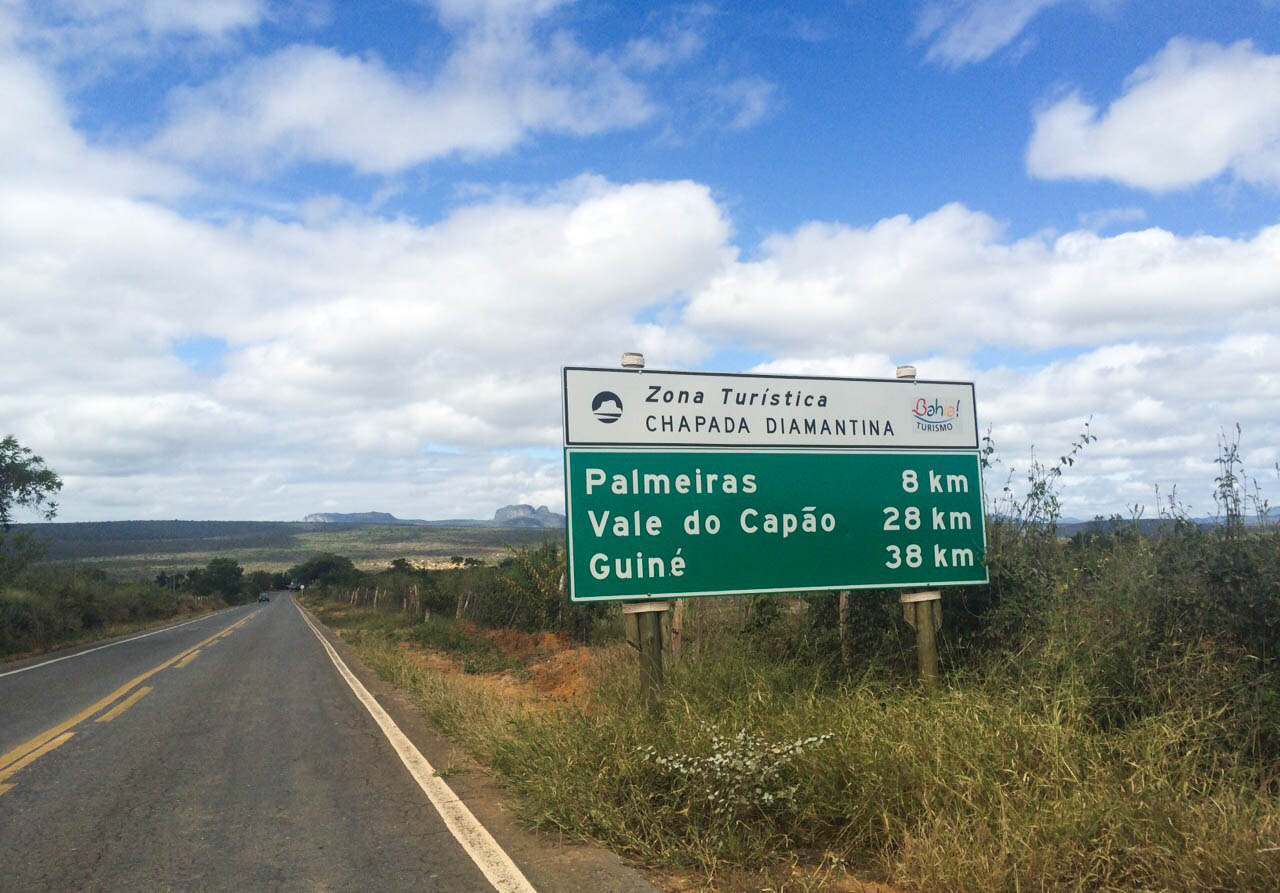 How to get to Vale do Pati by bus from Salvador
If you are coming by bus from Salvador we recommend the Real Expresso/Rápido Federal company, which operates the same line to the cities of Lençóis and Palmeiras, in clean and comfortable buses. The city of Palmeiras, one stop further than Lençois, is the closest point to Vale do Pati. Then, you should get a transfer to go to the beginning of the trail, in the city of Guiné or in Vale do Capão.
If you are going to start the trail through Vale do Capão, there are vans waiting for passengers to arrive to take them for R$20 per person, during bus arrival times in the morning and afternoon. We do not recommend taking the bus that arrives in Palmeiras at night, as there will be no vans at this time. There are no rotating vans to the city of Guiné like there are to Vale do Capão, so if your trail starts in Guiné, we recommend that you arrange a transfer with your agency or arrange transport at Palmeiras bus station (which can be expensive if you are alone).
How to get to Vale do Pati by car from Salvador
Coming by car will give you more flexibility and you can go straight to the start point of the trek and leave the car in a parking space very used with tranquility. If you are coming from Salvador by car, the most used route to get to Palmeiras is the BR-324 and BR-242 highways to the city, around 450 km. From there, you can follow the traffic signs that will indicate the dirt road to Vale do Capão and another to Guiné.
How to get to Vale do Pati by plane 
Going by plane is the fastest but also the most expensive way to get. All flight routes to Chapada Diamantina arrive at Tanquinho airport (LEC), 25 km from the city of Lençóis and 285 km from Palmeiras, so it is important to remember that from the airport there are no bus lines to take you to the beginning of the trail, so you will need to arrange a transfer in advance to take you to your entry point to Vale do Pati.
We recommend coming from the city of Salvador on the Gol/Voepass airline, which offers lines on Wednesdays and Sundays. There are also new flights being operated by Azul airline from Confins airport (CNF), in the city of Belo Horizonte, Minas Gerais, on Thursdays, Saturdays, and Tuesdays.
Want to live an adventure in Vale do Pati? PlanetaEXO connects you with English-speaking professional guides who will provide you with unforgettable experiences in sustainable travel and supporting local communities. Discover the itineraries that our guides offer to Vale do Pati.
Frequently asked questions about Vale do Pati