For an unforgettable trip, find out about where Chapada Diamantina National Park is located and more essential tips about the region.
Chapada Diamantina is located in the center of the State of Bahia, in the Northeast of Brazil, 450 kilometers from the Atlantic coast of Salvador. It is made up of seven distinct cities along the legal boundaries of the Chapada Diamantina National Park, an area covering 1,520 km², and making up the second largest park in Brazil.
This natural wonder is distributed among the cities of Andaraí, Ibicoara, Iramaia, Itaetê, Lençóis, Mucugê, and Palmeiras, each with its own characteristics and full of natural attractions. If you still don't know what to do in Chapada Diamantina, check out our Top 10 best treks in Chapada Diamantina.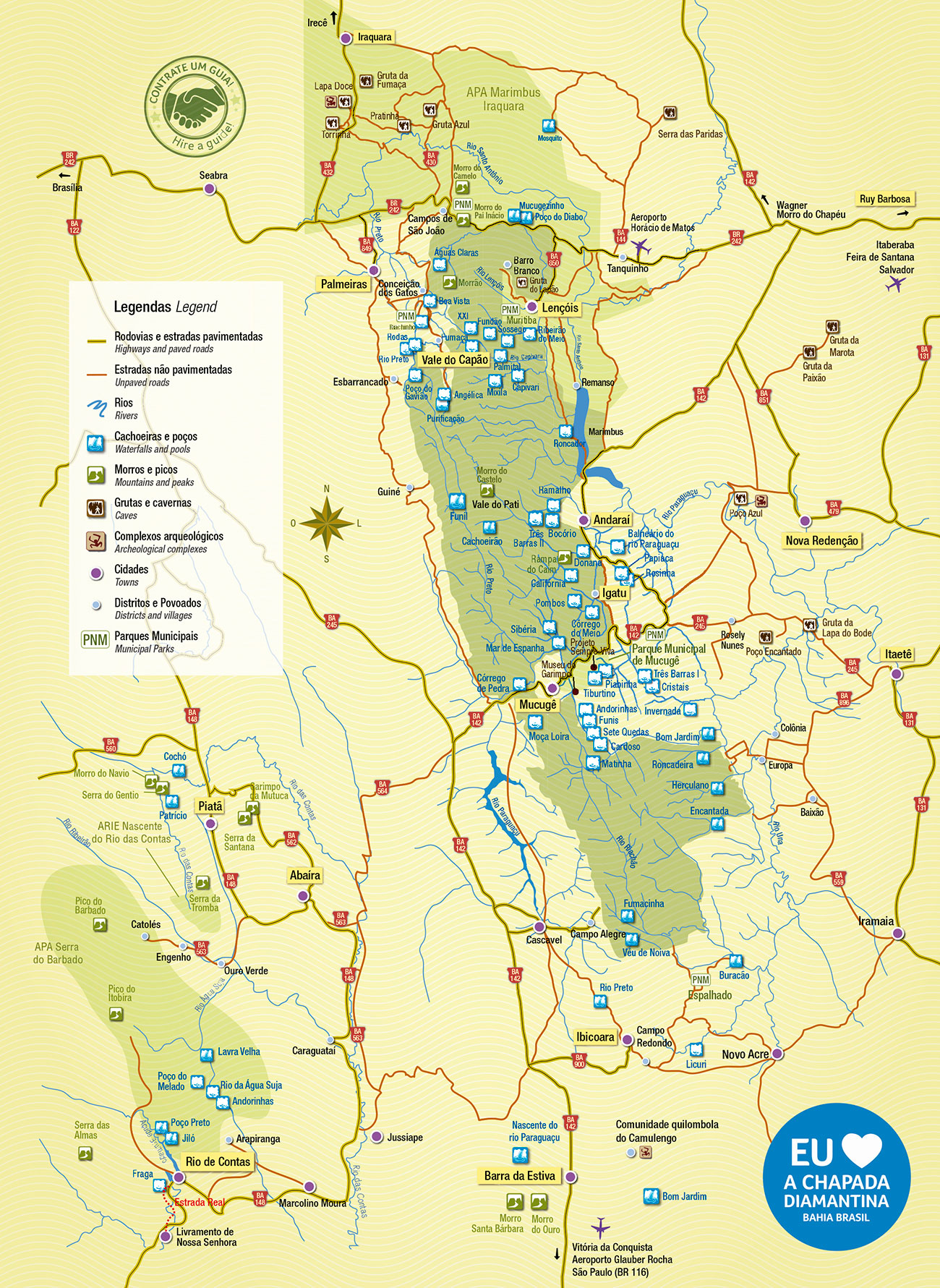 Created in 1985 to protect ecosystems, beautiful mountain landscapes, and important water resources, the Park has become well known and attracts adventurers and naturalists eager to explore its hundreds of kilometers of trails. The more than 100 waterfalls in Chapada Diamantina have the power to surprise even the outdoors-savvy person.
There is little infrastructure in the Park itself and nothing in terms of official entry, with no information center or entrance fee. The area is free for anyone who wants to explore, with easily accessible trails that can be done in one day, or the more challenging multi-day ones like Vale do Pati trek, or even a 6-day expedition through the Park. In case you are not an expert in reading maps and GPS, we recommend hiring a guide, as it is easy to get lost if you are not sure where you are going.
Beyond nature, the Bahian hinterland has a rich history and culture that has been preserved through the stories passed down by local residents. Check here 10 curiosities about Chapada Diamantina! Despite the arrival of new residents seeking a more natural way of life, the region has embraced tourism as its main activity. At PlanetaEXO, our goal is to connect travelers with local guides and promote the economic development of the communities.
If you want to live an unforgettable experience in Chapada Diamantina, go with a professional guide and make traveling more sustainable one adventure at a time! 🙂
Frequently asked questions about Chapada Diamantina