The Pantanal is a vast wetland located in western Brazil, primarily in the state of Mato Grosso do Sul, a unique landscape renowned for its jaguar safari tours, it is widely regarded as the best place in the world to catch a glimpse of these magnificent creatures. This is the largest wetland in the world, covering a total area of approximately 187,818 hectares, which includes several protected areas, including national parks, wildlife reserves, and indigenous lands.
Known for its incredible biodiversity and as one of the best places in the world for wildlife watching, the Pantanal is home to over 650 bird species, 120 mammal species, 260 fish species, and countless reptiles, amphibians, and invertebrates. It is particularly known for its population of jaguars, which is one of the highest in the world. Pantanal safaris are a popular way for tourists to experience the natural wonders of the Pantanal. These jaguar safaris typically involve guided tours on foot, by boat, or in specialized vehicles, and offer visitors the chance to see the region's incredible wildlife up close.
The wetland is fed by numerous rivers, including the Paraguay River, and is characterized by seasonal flooding, with water levels reaching their peak during the rainy season from November to March. During the dry season from April to October, the waters recede and create a unique landscape of marshes, lagoons, and channels. Both seasons have their unique features and attractions, so it ultimately depends on the visitor's preferences as to which time of the year to visit the Pantanal.
In recent years, the Pantanal has faced a number of environmental threats, including deforestation, overfishing, and climate change, which have put the region's fragile ecosystem and the communities that depend on it at risk. Sustainable tourism is essential for the conservation and preservation of the Pantanal ecosystem, promoting the protection of its unique and valuable natural resources, while also supporting the social and economic well-being of local communities. If you want to make the most of your trip to the Pantanal, going with a local guide is highly recommended.
How many jaguars are in the Pantanal?
The Pantanal is considered one of the best places in the world for jaguar safaris, as it is home to the largest population of jaguars in the world. While the exact number of jaguars in the Pantanal is difficult to determine, it is estimated that there are around 4,800 jaguars in the Brazilian Pantanal region. This represents a significant portion of the estimated global population of jaguars, which is around 15,000 individuals.
Jaguar safaris in the Pantanal are a popular activity for visitors, offering a unique opportunity to observe these elusive and majestic cats in their natural habitat. Local guides and tour operators offer a range of safari options, including boat tours along the rivers and wetlands, guided walks and hikes, and 4×4 safaris. Tourism activities focused on jaguar safari tours can also contribute to conservation efforts in the Pantanal, by providing economic incentives for conservation and supporting local communities.
How many species lives in Pantanal?
It is estimated that there are over 4,700 plant and animal species that live in the Pantanal wetland in Brazil, including approximately 1,200 species of butterflies, 80 species of mammals, 50 species of reptiles, 400 species of fish, and 650 species of birds, among others. However, the actual number of species may be even higher, as the Pantanal is a vast and complex ecosystem, and new species are still being discovered and identified.
Who owns the Pantanal in Brazil?
The Pantanal is not owned by any single entity or individual, as it is a vast and complex ecosystem that spans several countries, including Brazil, Bolivia, and Paraguay. In Brazil, the Pantanal is located primarily in the states of Mato Grosso and Mato Grosso do Sul, and is comprised of public and private lands. The Brazilian government manages a significant portion of the Pantanal through a network of protected areas, including national parks, wildlife reserves, and indigenous territories. Private landowners also play an important role in the management and conservation of the Pantanal, as many areas of the wetlands are used for ranching and agriculture.
To get a better understanding of the ownership and distribution of land in the Pantanal, you can refer to a Pantanal Brazil map, which shows the location of protected areas, indigenous territories, and private lands in the region.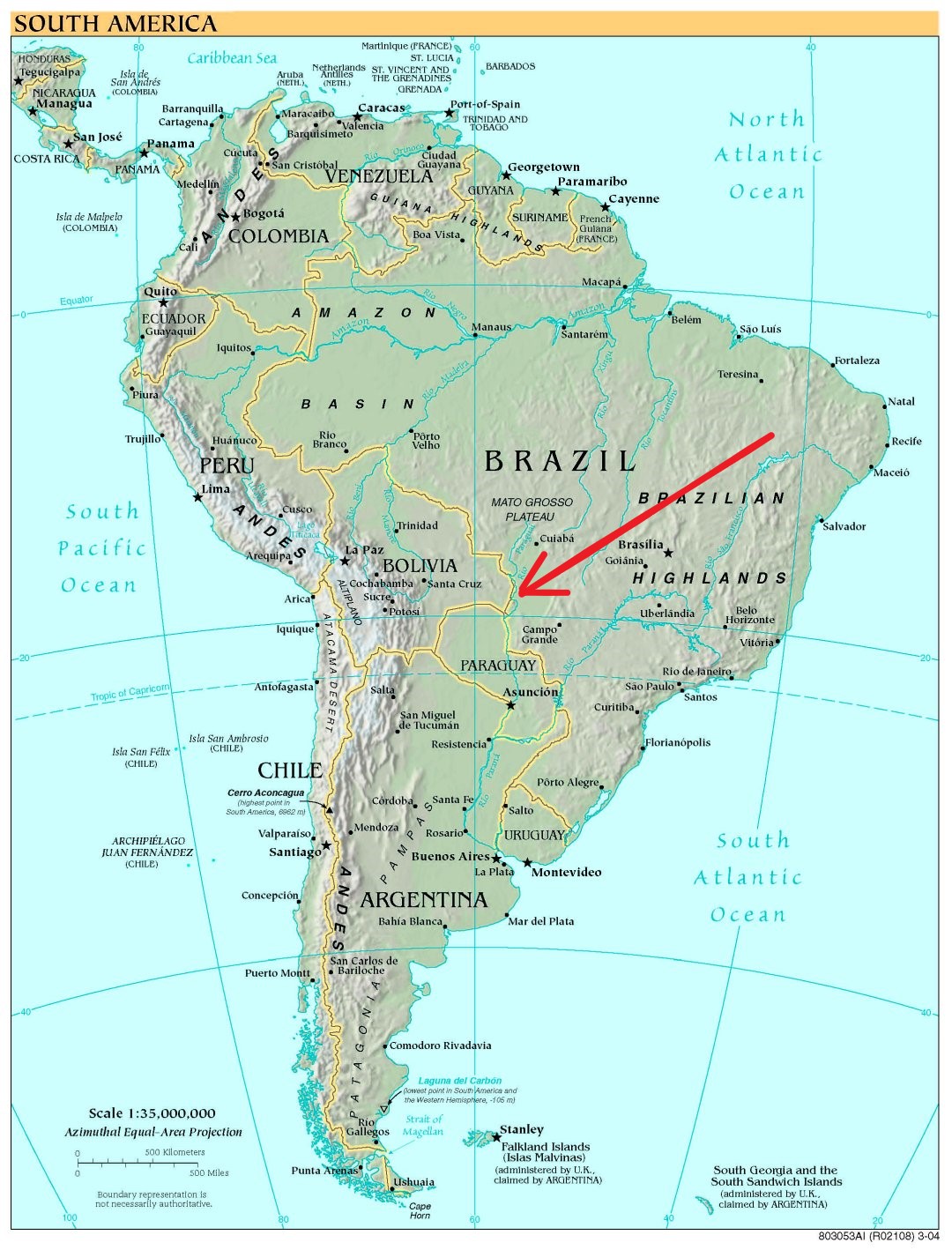 Where is the best place in the Pantanal to see Jaguars?
The Pantanal region in Brazil is considered one of the best places in the world to go on a jaguar safari and see jaguars in their natural habitat. There are several areas within the Pantanal where jaguar sightings are common, but some places are more reliable than others. It's recommended to go with a local guide who knows the area and can increase your chances of spotting these magnificent creatures. Want to go on a jaguar safari in Pantanal? Check out all the amazing Jaguar safari tours that will take you there by clicking here!
Where to stay in Pantanal Brazil?
Choosing where to stay in Pantanal depends on different factors, including your budget, desired level of comfort, and the kind of experience you want to have. There are many options available, ranging from jaguar safaris to Pantanal river cruises. Here are some recommendations to assist you in making your decision.
When is the best time to go to Pantanal?
The best time to visit Pantanal is during the dry season, which runs from May to October. This is when the wildlife is more concentrated around the rivers and waterholes, making it easier to spot animals like jaguars, caimans, and capybaras. The rainy season, from November to April, can make some areas inaccessible due to flooding, but it can also be a good time to see migratory birds and lush vegetation. It's important to keep in mind that weather patterns can vary from year to year, so it's always a good idea to check local conditions before planning your trip.
If you are looking for the best time to see jaguars in Pantanal, is also during the dry season, which typically runs from May to October. This is because the water levels are lower, which makes it easier to spot jaguars as they come out to hunt on the riverbanks. However, jaguars can be seen throughout the year in the Pantanal. In the Exclusive Jaguar Safari by land, the jaguar sighting rate is 98%, and they can be seen all year round. If you want to see jaguars by boat, we recommend going on a Jaguar Tour in the Porto Jofre region, which is known for its high jaguar population density and frequent sightings. Keep in mind that the chances of spotting jaguars in Pantanal tours can be influenced by various factors such as weather, water levels, and animal behavior.
What is the best Pantanal Jaguar Safari Tour?
There is no single "best" Pantanal jaguar safari experience, as each safari has its own unique offerings and can vary depending on your interests and preferences. However, there are a few factors to consider when choosing a Pantanal safari. We have compiled a list of exceptional Pantanal tours that promise unforgettable experiences amidst this natural paradise. Here are a few recommendations to help you choose the perfect tour.
How to get to Pantanal?
If you're going to northern Pantanal, the most common way to get to Porto Jofre in the Pantanal is by road, through the Transpantaneira Highway. The closest major city is Cuiabá, which has an airport with domestic flights from major Brazilian cities. From Cuiabá, you can hire a transfer service, rent a car or take a bus to Poconé, the gateway to the Transpantaneira Highway. Once in Poconé, you can rent a 4×4 vehicle or hire a driver to take you to Porto Jofre, which is about 145 kilometers away. It's important to note that during the rainy season (December to March), the road can become impassable, so it's best to check the weather and road conditions before making the trip.
To go to the southern Pantanal to the Exclusive Pantanal Safari Tours, you can fly to Campo Grande International Airport and then take a private transfer or shuttle service to the refuge. The refuge is approximately 236 km (146 miles) from the airport and the journey takes about 3 to 4 hours by car.
What to bring to Pantanal Brazil?
Get organized and do the last shopping for what to bring to Pantanal safari tours. Trust us, you'll wish you had done it when you're there. When packing for a trip to the Pantanal, it is important to keep in mind the region's climate, wildlife, and outdoor activities. Here are some essential items to bring:
Lightweight, breathable clothing: the Pantanal is hot and humid, so bring lightweight clothes that will keep you cool and comfortable.
Insect repellent: the Pantanal is home to many insects, including mosquitoes and ticks, so it's important to bring insect repellent to protect yourself.
Sunscreen and sunglasses: the sun in the Pantanal can be intense, so bring sunscreen and sunglasses to protect your skin and eyes.
Hat or cap: a hat or cap will help protect your face and head from the sun.
Closed-toe shoes or boots: comfortable shoes or boots with good traction are essential for outdoor activities in the Pantanal.
Waterproof clothing: the Pantanal can experience heavy rains, so bring waterproof clothing to stay dry.
Binoculars and camera: the Pantanal is known for its wildlife, so bring binoculars and a camera to capture all the amazing creatures you'll see.
Personal medication: if you take any prescription medication, make sure to bring enough for your entire trip.
Reusable water bottle: staying hydrated is important in the Pantanal, so bring a reusable water bottle to refill throughout the day.
Cash: while some places in the Pantanal may accept credit cards, it's always a good idea to bring cash for purchases or tips.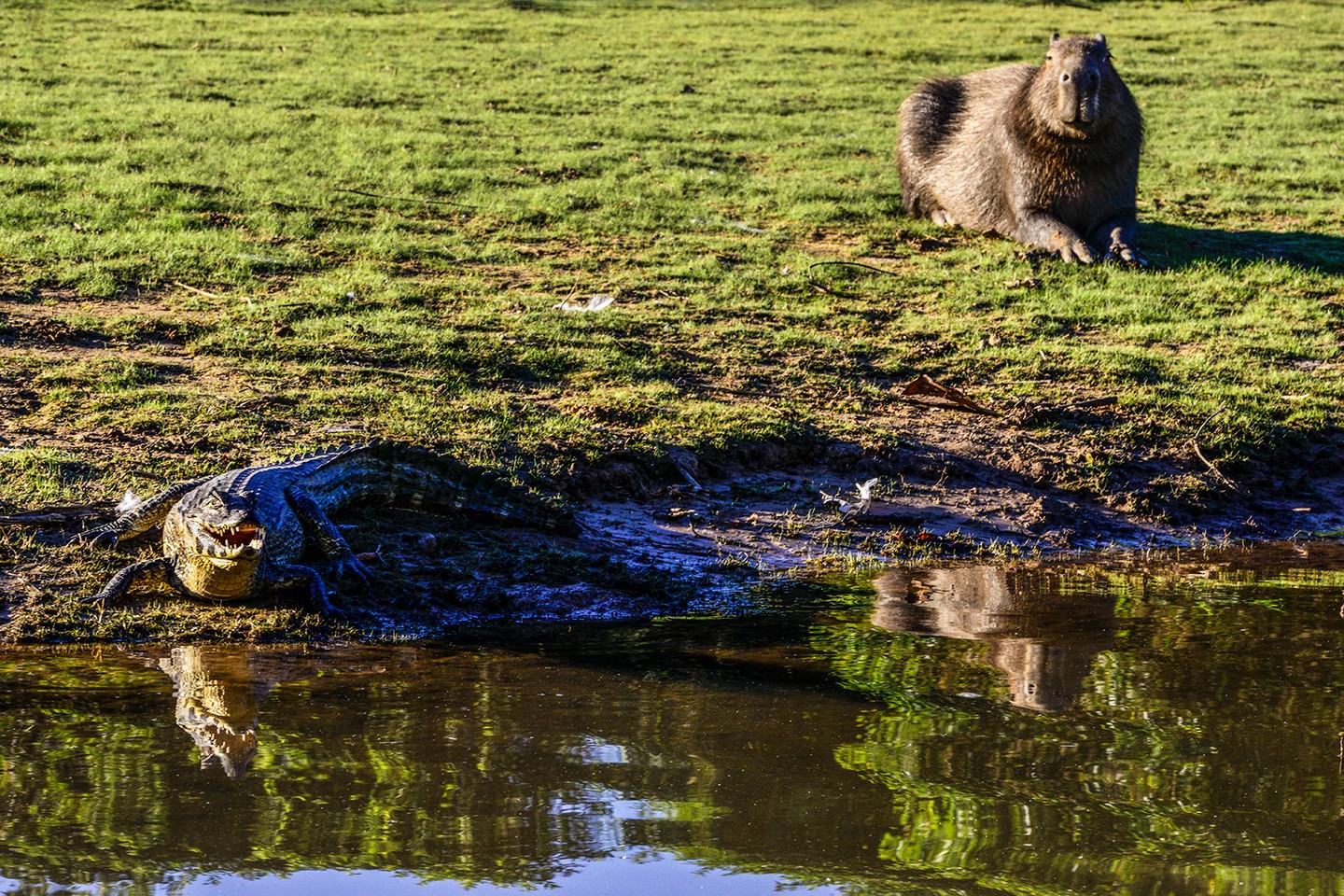 Discover the magic of Pantanal tours in Brazil with a local guide and live a wildlife haven, teeming with biodiversity. From jaguars to capybaras, vibrant wetlands to breathtaking landscapes, Pantanal offers an unforgettable adventure. Don't miss the opportunity to immerse yourself in this natural wonderland!
At PlanetaEXO, we are passionate about promoting sustainable travel and making a positive impact. Join us in Brazil's wetland for an adventure like no other! Connect with our knowledgeable local guides, book your trip today, and prepare for a life-changing Pantanal Jaguar safari tours filled with unforgettable moments! Let's make sustainable travel a reality, one adventure at a time. 🙂