Vale do Pati trek is a popular destination for outdoor enthusiasts, hikers, and nature lovers, one of the world's most beautiful hikes in Chapada Diamantina National Park. A stunningly beautiful valley located in the heart of the Bahia state in Brazil, surrounded by towering mountains, waterfalls, and rivers, providing visitors with a breathtaking view of the natural beauty of the region.
With altitudes ranging from 600 to 1400 meters above sea level, Vale do Pati is surrounded by an extensive network of hiking trails, which offer visitors the opportunity to explore the valley's diverse flora and fauna. There are several well-marked hiking trails in Vale do Pati that range from easy to difficult, making it accessible to hikers of all skill levels.
In addition to hiking, the valley is also home to several traditional communities, and visitors can immerse themselves in the local culture by staying in one of the region's rustic guesthouses. By supporting local communities, you are contributing to the local economy, helping to preserve local cultures, and promoting sustainable tourism practices. Traveling to Vale do Pati with a local guide is the perfect way to have an immersive and authentic experience in this stunningly beautiful valley. Here are some options for itineraries in Vale do Pati.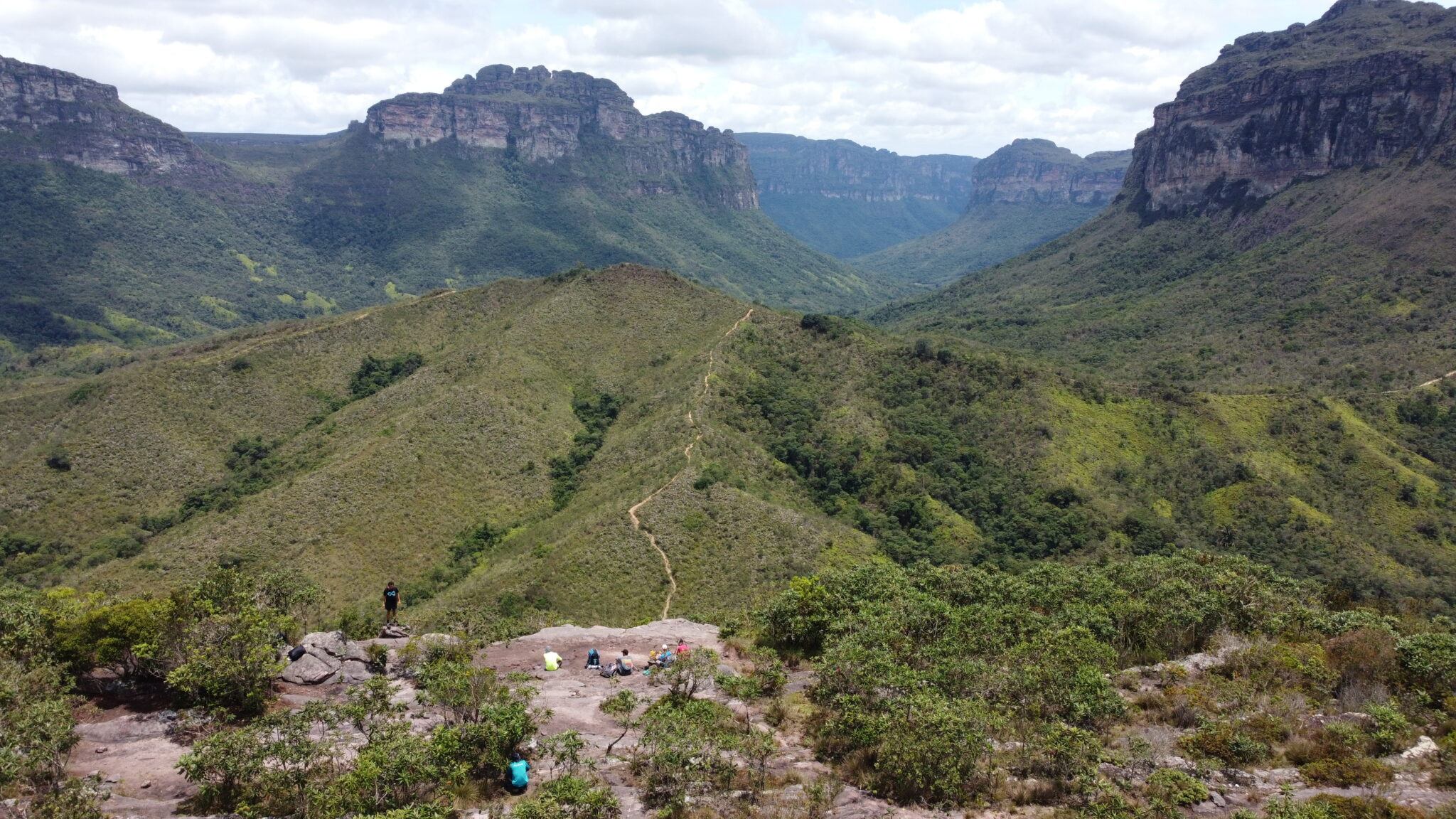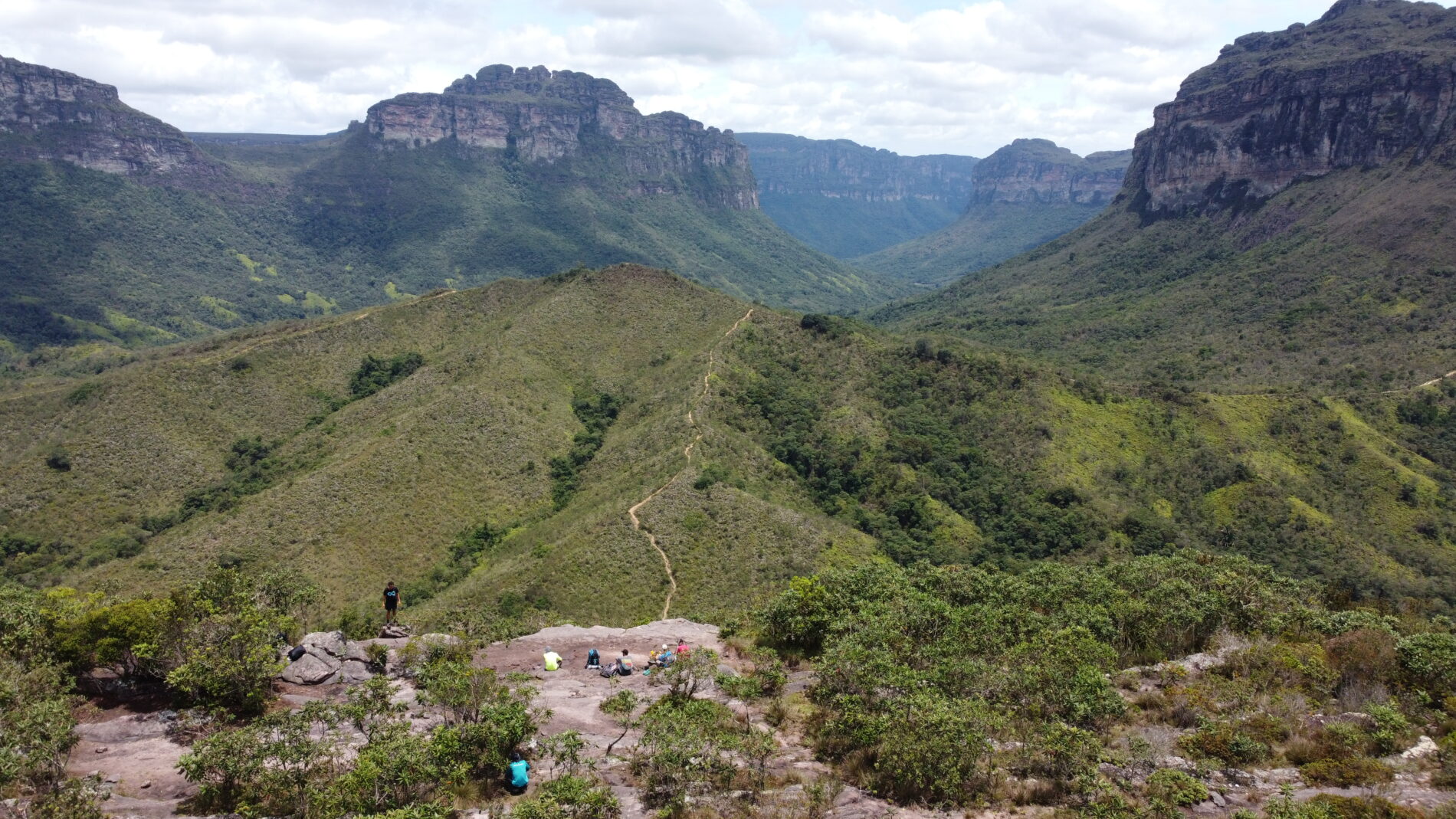 Where Vale do Pati is located?
Vale do Pati is considered the heart of Chapada Diamantina National Park, in the State of Bahia, Brazil, where the municipalities of Guiné, Vale do Capão, and Andaraí meet. As the Vale do Pati can only be accessed on foot, these cities are used as a starting point for trekking routes throughout the park, and visitors can choose to start and end their journey, depending on your itinerary length and difficulty preference.
Vale do Pati is part of the stunning landscape of Serra do Sincorá, the most famous part of the Chapada Diamantina hikes, and its central location makes it a convenient and popular meeting point for tourists and locals alike who wish to explore the natural wonders of this National Park. Take a look at the map of Vale do Pati to get informed about this amazing destination!
How many kilometers is the Vale do Pati trek?
There are numerous ways to explore the Vale do Pati trek, and the duration and the specific route will vary depending on several factors, such as the starting city, support houses for overnight stays, and desired attractions. Whether you're a beginner or an experienced hiker, the itinerary can be tailored to meet your needs.
Typically, hikers walk an average of 15 km per day, with some days covering up to 22 km and others as little as 8 km. A 3-day trek through Vale do Pati covers approximately 35 km, while a 4-day itinerary covers around 48 km, and a 5-day trek covers an average of 55 km. However, these numbers are just a rough estimate and can vary significantly.
For those with limited time, starting the trek from the city of Guiné offers a short 10 km walk to reach the Vale do Pati. In comparison, the distance from Vale do Capão or Andaraí is longer, covering 22 km to reach Vale do Pati. Each route has its unique beauty, and the best option depends on your personal travel preferences. Looking for more information on the length of Vale do Pati? You can find that here!

How many days should I plan for Vale do Pati trek?
The duration of your Vale do Pati trek will depend on several factors, including your chosen route, available time, and physical fitness level. However, most itineraries typically range from 3 to 5 days. A 3-day itinerary allows you to visit the Vale do Pati lookout, Funis Waterfall, Castle Mountain, and Cachoeirão Lookout.
The most popular option is the 4-day itinerary, which includes the aforementioned attractions, as well as a visit to either Calixto or Poço da Árvore. This itinerary allows you to hike at a comfortable pace and fully appreciate the beauty of the valley. For a more traditional trek, a 5-day itinerary is recommended. This route includes a visit to the bottom of Cachoeirão and ends with the Ladeira do Império, departing from Andaraí. This longer itinerary provides ample time to explore the valley and its attractions at a more leisurely pace.
What is the best time to visit Vale do Pati?
You can visit the Vale do Pati at any time of the year. However, it's important to note that the region has two distinct seasons, each with its own advantages and disadvantages. The dry season, which runs from April to October, is a great choice for those who prefer to avoid trekking in the rain. Nonetheless, the temperature can be cooler, and the waterfalls may not be at their fullest. In contrast, the rainy season, which begins in November and lasts until March, provides warmer waters and more voluminous waterfalls.
Nevertheless, it's worth keeping in mind that the microclimate of the region can cause rain during the dry season or provide fantastic days of sunshine during the rainy season. Therefore, the season alone should not be the only factor in your decision-making. Additionally, climate change has caused fluctuations in the weather patterns of many regions, and it's difficult to predict how nature will behave each year. So, it's always best to be prepared for any surprises, and keep in mind that your experience trekking in Vale do Pati will undoubtedly be unforgettable, no matter what. For additional information about the weather in Vale do Pati, check here!
What are the entrance points to Vale do Pati?
To access one of the most stunning hikes in the Chapada Diamantina region, there are several gateways.  You can start the Vale do Pati trek from Beco do Guiné (located in the city of Guiné), Bomba (in Vale do Capão), and Ladeira do Império/Empire Hill (located in Andaraí and commonly used for five-day itineraries). The most traditional way to reach the Vale do Pati is by arriving and departing through Guiné, which offers a peaceful and scenic route in comparison to the other gateways. Visitors typically travel by car to these gateway points and then continue on foot through the Vale do Pati.
How to get to Vale do Pati?
If you are traveling by bus from Salvador, we recommend using the Real Expresso/Rápido Federal company, which offers clean and comfortable buses that operate on the same route to the cities of Lençóis and Palmeiras. The city of Palmeiras, which is one stop further than Lençóis, is the closest point to the Vale do Pati if you are coming by bus. From there, you will need to arrange for a transfer to take you to the starting point of the trail, either in the city of Guiné or in Vale do Capão. If you are coming by car, you can go directly to the entrance of the trail and park the car at Beco in Guiné City or at Bomba in Vale do Capão. See how to get by car, bus, or plane to the National Park entrances.
What to do in Vale do Pati?
When it comes to attractions, the hikes in Chapada Diamantina have plenty to offer and the Vale do Pati trek is one of the most comprehensive routes within the National Park. Hiking enthusiasts will enjoy trekking through the valley's rugged terrain and taking in the awe-inspiring views of the surrounding mountains. Here are some attractions that you can't miss.
One of the main draws of Vale do Pati is its remoteness. This area is truly off the beaten path, offering visitors the opportunity to disconnect from the stresses of modern life and immerse themselves in the simplicity of nature. There's no cell phone signal or electricity, making it the perfect place to unplug and unwind. If you're looking to further explore the wonders of Vale do Pati trek, here are 10 fascinating facts about Vale do Pati that will make you want to pack your bags and explore this magical destination.
Do I need a guide to go to Vale do Pati?
Vale do Pati is one of the Chapada Diamantina National Park hikes, where the trails are open and free of charge. You don't need a guide to explore, but it's not advised. Keep in mind that you'll be in a wilderness setting without communication, so going with a guide is safer. Remember, trekking without a guide is at your own risk. Take a look at what our travelers have to say about their Vale do Pati adventure with our local guides!
Is there Wi-Fi in Vale do Pati?
In Vale do Pati, there is no cell phone service or Wi-Fi available, so you should be prepared to disconnect from the outside world and live in the present moment. The region relies solely on solar energy, which provides enough power to charge cell phones and machine batteries. This is a great opportunity to disconnect from technology and immerse yourself in the natural beauty and peacefulness of the valley.
What to bring to Vale do Pati?
When packing for Vale do Pati, it's important to keep in mind the changing weather conditions and the nature of the trek. Some essential items include good hiking shoes, comfortable clothing, a waterproof jacket, a hat, sunscreen, insect repellent, a first aid kit, and a sturdy backpack. It's also recommended to bring a water bottle and some snacks for the trek. Be prepared for an adventure of a lifetime in this beautiful destination! Our ultimate travel packing checklist will help all travelers to have stress-free trekking.
Among all the hikes in Chapada Diamantina, Vale do Pati stands out as one of the most stunning. A visit to Vale do Pati is an unforgettable experience that will leave you with memories that last a lifetime. So pack your bags and head to this hidden oasis for an adventure of a lifetime! At PlanetaEXO, we believe that every adventure we take can make a difference in sustainable travel! 😊 Connect with a local guide and embark on an unforgettable journey through the mountains in Chapada Diamantina National Park. Book your trip now and get ready for an experience!